Ultimate Guide to Australia's Best Ducted Air Conditioners for 2023
You're probably on the hunt for the best ducted air conditioner to beat Australia's heat in 2023. Our ultimate guide simplifies your search, highlighting top-rated systems that balance powerful cooling and energy efficiency.
We'll explore smart features, tackle installation costs, and compare brands like Mitsubishi Electric, Daikin, and Panasonic. So you don't just get an AC—you make a savvy investment in comfort.
Let's find your perfect cooling solution today!
Table of Contents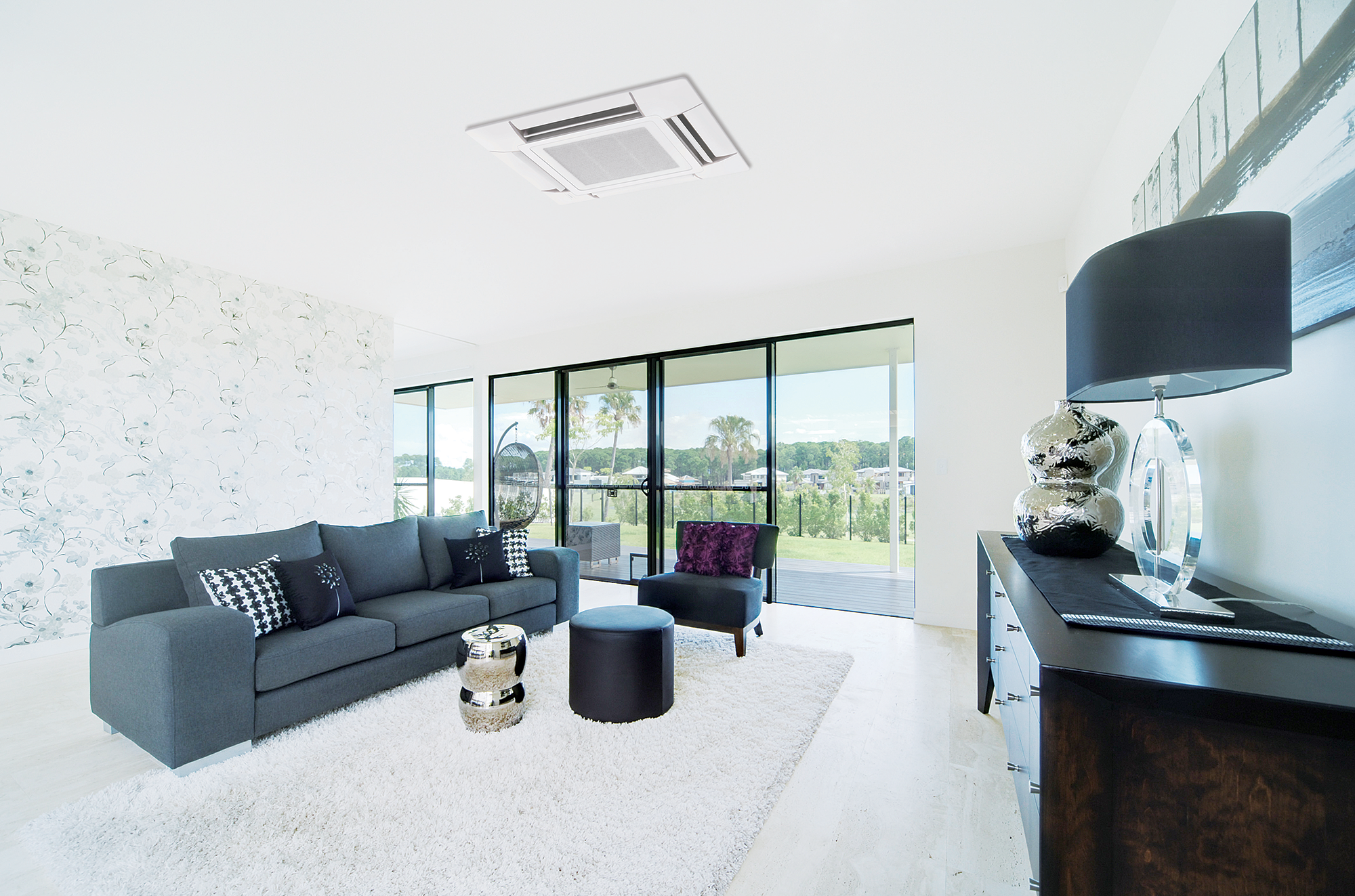 Understanding Ducted Air Conditioning Systems
If you're trying to understand ducted air conditioning systems, let's break it down for you!
Ducted air conditioning is a type of climate control that uses ductwork to distribute cooled or heated air throughout your home. You can easily regulate the temperature in different zones of your house, thanks to the zoning feature found in most modern systems.
When it comes to brands, you've got plenty of choices like Daikin, Panasonic, and Mitsubishi Electric, each offering unique technologies and features. They are designed with energy efficiency in mind, which makes them ideal for keeping those power bills under control while ensuring you're comfortable regardless of the season. Understanding ducted air conditioning systems involves recognizing their merits over other cooling methods. One key benefit is their ability to cool an entire property evenly and efficiently due to their zoning capabilities – this means no more hot or cold spots!
Key Features to Consider When Buying a Ducted Air Conditioner
You're probably wondering what key features to consider when buying a new air conditioning system, right? Especially if you're looking at ducted air conditioners in Brisbane, you need something that will handle the heat efficiently.
1. Cost: Look into the ducted air conditioning cost for both purchase and installation. Also, factor in your projected energy consumption over time.
2. Brand reputation: Check out ducted air conditioning reviews online to see which brands are reliable and high quality. Consider brands like Daikin ducted aircon that have a strong reputation.
3. Energy efficiency: This is crucial whether your cooling and heating – higher energy efficiency means lower running costs over time.
4. Pros and Cons: Consider all the ducted air conditioning pros and cons before making your decision – this includes noise levels, maintenance requirements, cooling capacity, or even if a split system air conditioner might be a better option instead?
Evaluating the Efficiency of Ducted Air Conditioners
Evaluating the efficiency of your cooling system is crucial, as it can greatly impact your energy bills and overall comfort. If you're in Brisbane, considering ducted air conditioning could be a game-changer for maintaining a high-efficiency home. The initial ducted air conditioning installation might feel like a significant investment, but remember that efficient cooling systems pay off in the long run by reducing energy consumption.
Of course, to ensure that your system retains its efficiency over time, regular ducted air conditioning maintenance is essential. Don't ignore those minor issues or strange noises; timely ducted air conditioning repair can prevent small problems from escalating into big headaches.
Remember, an efficient ducted air conditioner isn't just about cool temperatures. It's also about creating a comfortable and healthy living environment for you and your family. So make sure to consider factors such as noise levels and air quality when choosing a system. With the right choice and proper care, you'll enjoy reliable and cost-effective cooling all year round – even during those scorching Brisbane summers!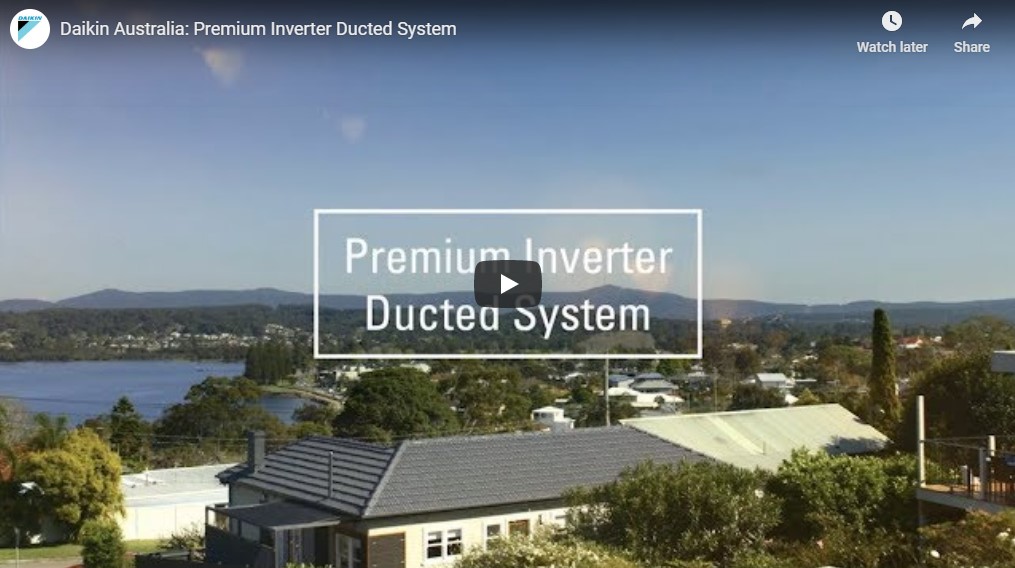 Best Ducted Air Conditioning Brands in Australia for 2023
So what's the best ducted air conditioning system for you? Let's dive in and take a look at the top ducted air conditioning brands on the market for 2023 that are dominating the air conditioning scene with their cutting-edge technology and reliable performance! These brands offer optimal ducted air conditioning for a 4-bedroom house, a large open plan living area, or even a smaller 2-bedroom unit.
1. Daikin: Known for their innovative inverter technology and high energy-efficiency rating, Daikin is perfect if you're searching 'ducted air conditioning near me'. Their systems provide excellent cooling capacity while ensuring quiet operation. See our range here!
2. Mitsubishi Electric: This brand offers ducted systems that integrate seamlessly into any home design. They are great for large open plan living areas due to their powerful cooling capabilities. See our range of Mitsubishi Air Conditioners here.
3. Panasonic: If you need ducted air conditioning for a budget-friendly home, Panasonic has got you covered with its affordable yet efficient systems!
4. Samsung: Offering smart connectivity options and high-efficiency ratings, Samsung ducted air conditioners provides premium quality at competitive prices.
Also, remember to check out possible ducted air conditioning rebates and special promotions offered by government programs or specific brands themselves – it might just make your investment more worthwhile!
Cost and Installation Process of Ducted Air Conditioners
Wondering about the costs and installation process involved with these cooling systems? It's essential to understand that several factors can influence the final price of your ducted air conditioning system.
The size of your home, system type, and installation complexity all play a role in the cost. Larger homes require more extensive ductwork and a bigger unit, which can increase the overall expense. On top of this, if your house has multiple levels or other complications that make installation trickier, it could require more time and additional labor. This can drive up costs further so it is recommended to speak to a Brisbane ducted air conditioning expert like Cooltimes for a more accurate quote.
The specific air conditioning system you choose also impacts price. Advanced systems with higher energy ratings are typically pricier but offer long-term savings on electricity bills. To get an accurate quote tailored to your requirements, consult with a professional installer who'll assess your needs and budget. They'll suggest the best solution for you without compromising quality.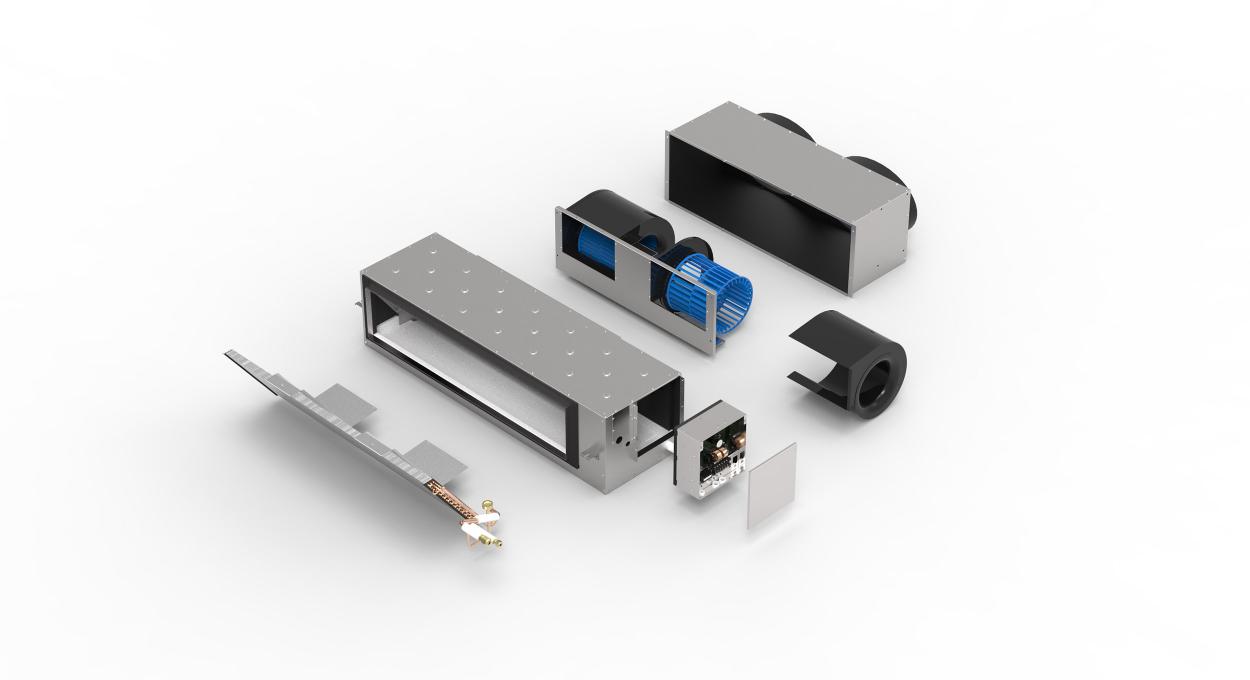 Maintenance Tips for Ducted Air Conditioners
Maintaining your cooling system properly can significantly extend its lifespan and ensure it's running efficiently. Without regular upkeep, your ducted air conditioner might start underperforming or even break down completely. Here are some tips to keep your unit in top shape:
1. Regular Cleaning: Dust and debris can clog up the filters over time, reducing efficiency. Clean them regularly to ensure smooth airflow.
2. Professional Servicing: At least once a year, have a professional service of your unit to check for potential issues and fix them before they escalate.
3. Prompt Repairs: Don't ignore minor issues – they could turn into major problems if left unattended. If you notice anything unusual like strange noises or reduced cooling, call in an expert like Cooltimes immediately for prompt air conditioner repairs.
4. Efficient Usage: Avoid putting undue stress on your system by setting realistic temperature goals and not overusing the unit.
Comparing the Best Ducted Air Conditioners for Residential & Commercial Properties
When it comes to choosing between residential and commercial cooling systems, there are several key differences to consider.
Residential air conditioning units are often smaller and tailored for homes, where the focus is on quiet operation and efficiency. Commercial ducted air conditioning systems, on the other hand, are designed for larger spaces like offices or shopping centres – they're more powerful, but can also be much louder. If you own a small business, you might find that a residential system meets your needs just fine. But if you're running a larger operation with many rooms or floors to cool, a commercial unit will likely serve you better.
Remember though, these aren't hard-and-fast rules. It's possible to install multiple residential units in a commercial space if it makes sense for your situation. The most important thing is to work closely with your HVAC specialist. They'll be able to assess your specific needs – considering factors like the size of your space and how much use the system will get – and recommend the best choice for you.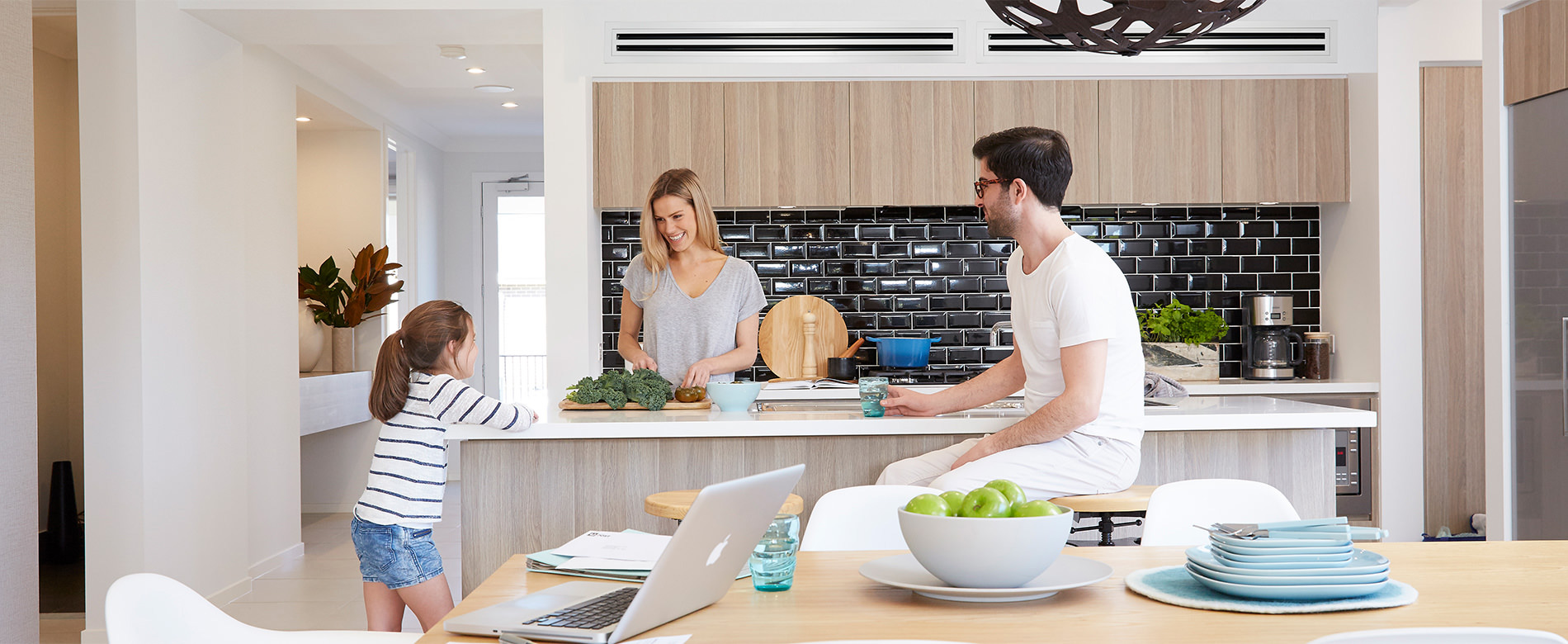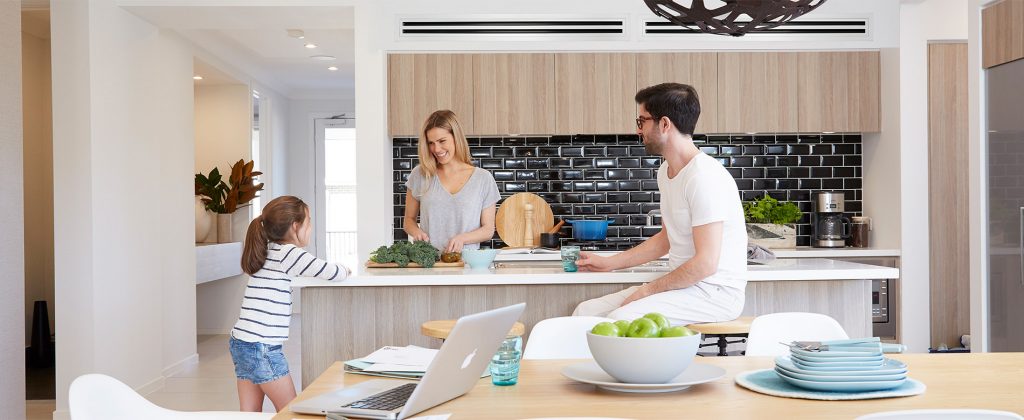 Benefits of Using Ducted Air Conditioning Systems
There are several benefits to using a ducted air conditioning system in your home, office or commercial building. Let's dive into some of these advantages below:
1. Efficient Cooling: Ducted AC systems deliver cool, refreshing air to every corner of your space. No room is left behind, ensuring even cooling throughout for maximum indoor comfort.
2. Energy Efficiency: Modern ducted AC units come with various energy-saving features that can significantly cut down on your electricity bills while maintaining optimum comfort levels.
3. Zoning Capabilities: You've got the power to control which parts of your home or office get cooled and when, thanks to zoning capabilities. This means you don't waste energy cooling unused spaces.
4. Quiet Operation: Unlike traditional window units that can be quite noisy, ducted systems operate quietly so you won't be disturbed by constant humming noises.
Common Issues With Ducted Air Conditioners & How to Address Them
So, you're now aware of the benefits ducted air conditioners can bring to your space, whether its your home or business. But what about potential issues? Don't worry! Here, we'll tackle common problems with ducted air conditioning systems and how you can address them.
Firstly, if your system isn't cooling effectively, it could be due to a dirty filter. Regularly cleaning or replacing filters ensures optimal performance and prevents dust buildup which can hinder airflow.
Next is unusual noise. If you hear rattling or banging sounds from your unit, this may suggest loose parts that need tightening or replacing.
Experiencing water leaks? This might be due to a blocked condensation line. It's best to call in professionals for this issue as it involves complex components.
Lastly, high energy bills might indicate an inefficient system. You should consider upgrading to a more energy-efficient model if your model is older than 10 years.
The Best Environmentally-Friendly Ducted Air Conditioning Options for 2023
It's becoming increasingly important to consider eco-friendly options when choosing a cooling system for your home in 2023. Not only does it reduce your carbon footprint, but energy-efficient air conditioning systems also translate into substantial savings on power bills.
Consider these four factors when hunting for the best eco-friendly ducted air conditioner:
1. Energy Efficiency Ratings: Look out for high star ratings. The more stars, the better the energy efficiency.
2. Inverter Technology: Inverter air conditioners adjust their speed in response to cooling demand, thereby consuming less power.
3. Smart Features: Systems that offer zoning or scheduling can prevent wastage by cooling only occupied areas at designated times.
4. Eco-Friendly Refrigerants: Choose units that use refrigerants with lower global warming potential.

Frequently Asked Questions
What Are the Potential Health Benefits of Using a Ducted Air Conditioning System?
Ducted air conditioning systems can significantly improve your indoor air quality. They're designed to filter out pollutants, reducing allergens and irritants in the air. This could potentially alleviate symptoms for those with allergies or asthma.
Can Ducted Air Conditioning Systems Also Provide Heating During the Colder Months?
Absolutely, you'll find that many ducted air conditioning systems also provide heating. It's a two-in-one solution, reverse cycle air conditioning ensures your home stays cool in summer and warm during those chillier months.
How Does the Noise Level of Ducted Air Conditioning Systems Compare to Other Types of Air Conditioners?
Ducted air conditioners are generally quieter than other types. They're installed in the roof or under floors, so you'll typically hear less noise compared to wall-mounted units. It's a big plus for your peace and quiet!
Is It Possible to Integrate a Ducted Air Conditioning System With Other Smart Home Devices?
Absolutely! You can integrate your ducted air conditioning system with other smart home devices. It's a breeze to control temperature settings, schedules, and even monitor energy use directly from your phone or voice assistant.
How Often Should the Filters in a Ducted Air Conditioning System Be Replaced?
You should replace your ducted air conditioner's filters every three months. However, if it's used heavily or you've pets, you'll need to change them more frequently for optimal performance and air quality.
Conclusion
So, you're now equipped with our ultimate guide to Australia's best ducted air conditioners for 2023! You've now got the know-how on key features, efficiency, top brands, installation costs and more. Remember, it's about balancing energy efficiency with cooling capacity!
Also – don't forget to factor in potential issues and how they can be resolved. With this knowledge, you're ready to make an informed choice that suits your needs and budget! If you need assistance in deciding on the best ducted air conditioning system to suit your residential or commercial needs, get in touch with the friendly team at Cooltimes Services today!